Pack/Unpack, 2022
Nov 2 - Nov 27
3.9 × 16.4 × 6.2 ft
cast brass, wire brass, latex, sticky notes, tibia fusus, murex, used wood, PC sheet, glass, tile, brass button, curling comb, thread reel

Pack/Unpack, 2022

Installation view at Liu haisu art Museum, Shanghai
Like a cicada leaves its molted shell, to follow the life circle and escape from the past world.

Presented as an unpacked box, Pack/Unpack contains leftover materials from deinstallation of art exhibitions in Shanghai, consisting with cast brass and wire brass. The project is created during a one-month residency of the Art Materials Collaborative at MACHANG, Shanghai, a factory that supports artists, galleries, and museums with productions and exhibitions.



With collect and arrange, the artist documents every piece of material without any reforming, and reconstruct them with thread-like hardware. Cast brass from clay, the making of thread sculpture catches the hidden shape that exists in the hollow fist, molding in a certain gesture performed by the human body and being the fastener in the work-for both functionally and metaphorically-embody the situation of artistic labor.



As a consequence of the increasing demand for art exhibitions in Shanghai, tons of leftover material have been produced after installation of exhibitions. Considering leftover material eventually being wasted and disappearing, as well as the invisibility of artistic labor, this work attempts to tell the parallel between those two among the excessive art production.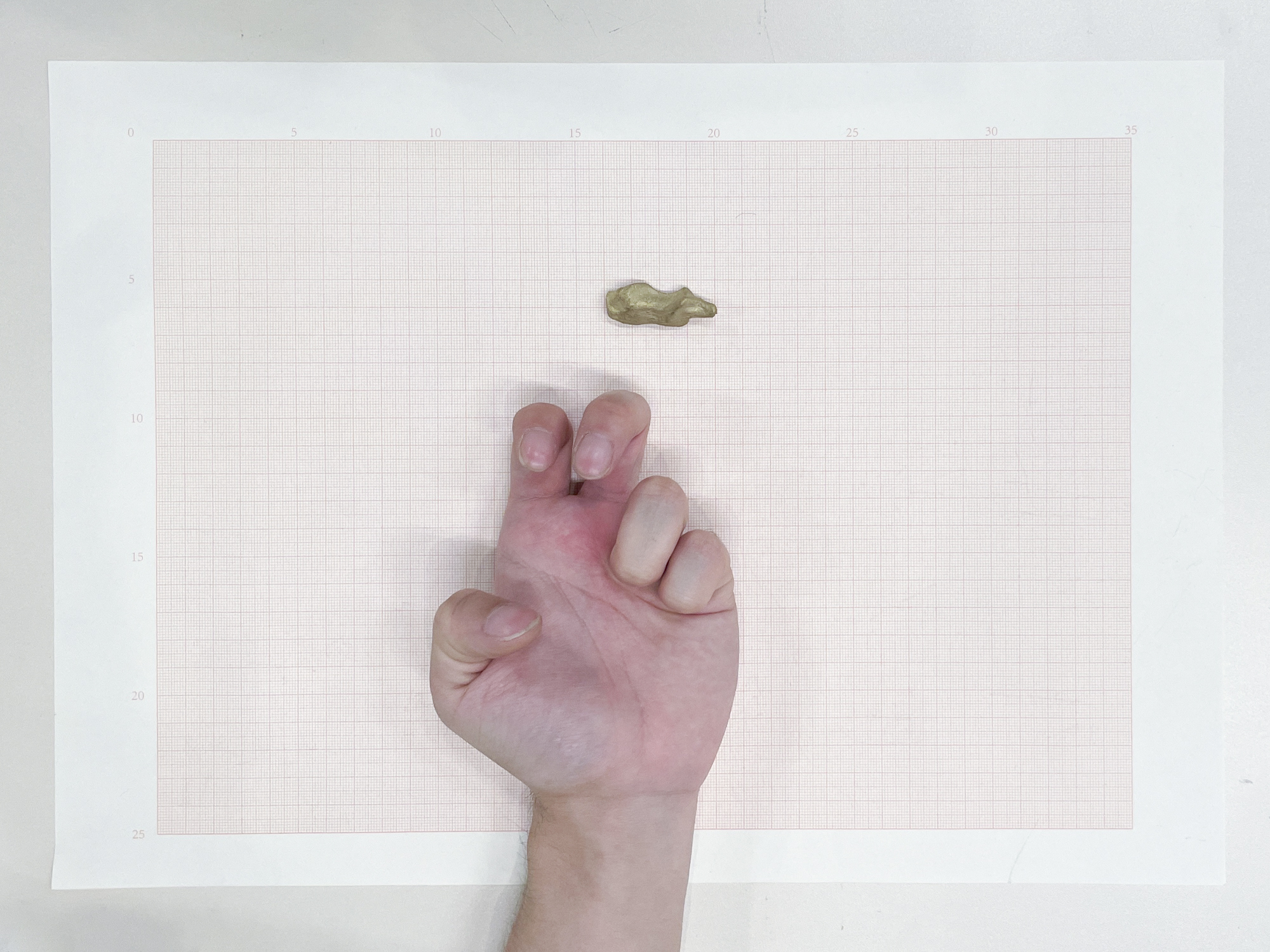 Finger combination, 2022
cast brass
10 types in total


Based on finger combination, 'screws' are born in different lengths to imply the idea of standardization. With the resemblance of threads, these unusual screws draw a subtle relation between human-made standard tools and the human body.

Filling with layers of skin-like latex in the crevices, the work intentionally treats the leftover material and fastener as limb and joint, along with hollow shells woven by brass wire, it is a fragile structure, an unfolded cube, a disassembled body.






Special thanks to all the support from the Art Materials Collaborative, initiated by MACHANG and M Art Foundation.

Deeply indebted to Ma Li, Huang Le, Ma Jinyun and Hu beibei for organizing the project. Curation and exhibition of Tang Qiansheng and Liulu at the Liuhaisu Museum. Wangzhe, Rhea Cheng, Nie Cheng and Feng Xueying for the help with installation and documentation. For the presenting and sharing this work at Shanghai Institute of Visual Art, I also wish to thank Jin Feng.




Art Materials Collaborative
Initiated by MACHANG and M Art Foundation, Art Materials Collaborative is an open and free-of-charge platform, aiming to systematically organize this archive and develop a new mechanism to recycle, reserve, research, redistribute and reallocate the materials.

M Art Foundation
The Art of Possibility, The Art of Metamorphosis
M Art Foundation (MAF) is an artist-driven organization founded to support, nurture, and realize the aspirations of leading and emerging contemporary artists pursuing concepts and practices across borders and boundaries.
Acting outside of existing institutional formats but maintaining the highest quality and rigor, MAF helps artist find new possibilities in both research and production by matchmaking constellations of cutting-edge positions.
We turn ideas into realities.
Derived from the initials of the founders, "M" signals metamorphosis.